Pintels for Fintech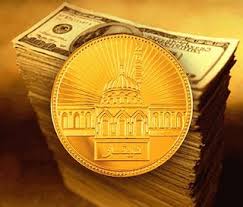 Fintech, aka Financial Technologies is one the fastest growing sectors in the industry. Fintech innovations are driving the sea change wherein disruptive innovations from startups are changing how financial services are created, managed and delivered to customers. New business models are posing multiple challenges to traditional models. For example, cloud based self service wealth asset management applications have disrupted how wealth is managed. What was hitherto managed by wealth management professionals is now driven by context aware customers, wherein customers themselves are able to manage the investments, assets based on the risk appetite.
Key technologies that are driving Fintech sector are Assets Management applications, credit applications, payment applications, payment processing methods, Crowd funding, Block chain technologies.
Key Challenges
| | | | |
| --- | --- | --- | --- |
| Understand changing market needs | Know emerging technologies and opportunities | Understand FinTech Trends | Identify collaboration partners |
Why Pintels for Fintech?
In 2015, the fintech investment reached $13.8 billion globally, compared to $2.1 billion in 2011. As it is all too obvious that FinTech can potentially disrupt over $4.7 trillion market that was traditionally owned by banks. So, to maximize the opportunities, you need to understand the technology and competitive landscape. Leveraging Pintels intelligence analytics platform you can understand the fintech technology innovation landscape and position how you want to move forward.
| | | | | |
| --- | --- | --- | --- | --- |
| Identify emerging technologies | Identify disruptive innovations | Identify new entrants to Market | Continuous monitoring of key technologies | Identify potential partners |
Other value add's include:
Improving Return on Innovation in Financial Institutions

Innovation and maximize profitability and customer satisfaction

Track M&A activities in FinTech sector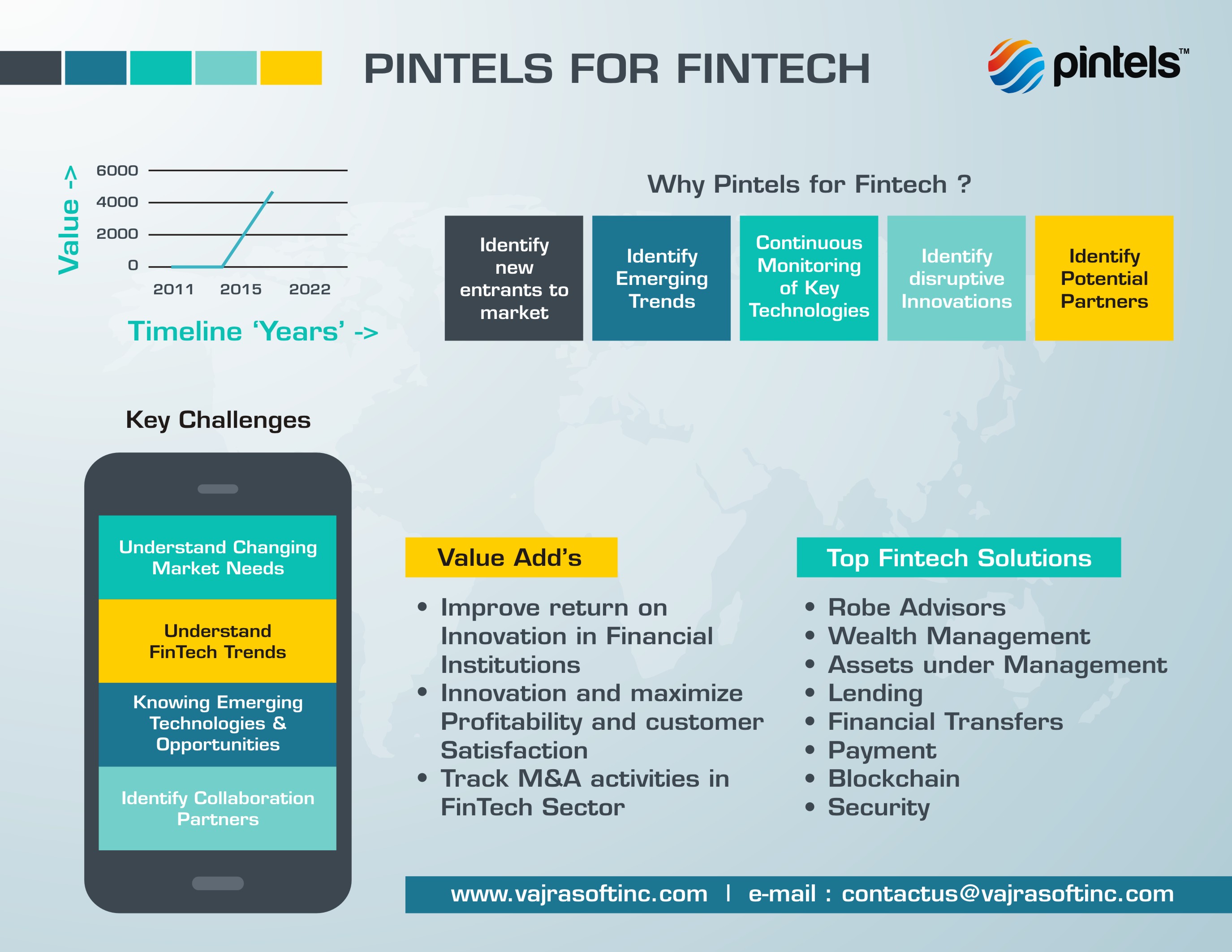 Pintels for FinTech accelerates innovations to drive financial growth and competitive advantage. Some of the FinTech solutions covered include:
FinTech Robo Advisors

FinTech Trends: Wealth Management

Assets under Management

Discount broker industry

Lending club

Financial transfers

Payment systems

Delivering Patent and Technology Landscape of Top Banks

At a click of a button, gain deep insights into the technology landscape and patent portfolio of top banks including - JPMorgan Chase, Wells Fargo Bank, Bank of America, Citigroup, Morgan Stanley, U.S. Bancorp, Bank of New York Mellon, CapitalOne, HSBC, State Street Corporation, American Express and more.

Banks can leverage Pintels intelligence analytics for potential out licensing opportunities, gaining insights into potential infringement, identifying potential candidates for Mergers & Acquisitions as well as getting a perspective on latest innovation in the Financial Technology Landscape.

Delivering Patent and Technology Landscape of Top Investment Banks

Understand the patent portfolios of leading investment banks including - JPMorgan, Goldman Sachs, Credit Suisse, UBS and more.

Delivering Patent and Technology Landscape of Top Investment Companies

Gain deep insight into patent portfolios and technology landscape of leading investment companies including - Merrill Lynch, Ameriprise, ING, Prudential and other companies.

Delivering Patent and Technology Landscape of Top FinTech Companies

Leverage Pintels for Fintech, you can identify the latest trends and opportunities and emerging players in FinTech. The data visualizations provide instant insights into emerging threats and disruptive innovations. Some of the players in FinTech sector include - Nice Systems, Square Inc., MasterCard, Visa, Cybersource, OneID, MagTek, FiServ, TD Ameritrade, Intuit, PayPal and other companies.